Your November ballot will feature a lot of races – so many in fact that you will need to remember to turn the ballot over if you want to vote in all the races.
The first page of the ballot will include candidates for US Senate & House, State Senate & House, Multiple judicial elections, Wake Sheriff, Wake County Commissioners, and Wake District Attorney.
The flip side of the ballot will include City Council, School Board, and three Bond Referenda. City Council and School Board members are the elected officials who most directly influence your daily life.
It's clear that many Raleigh residents are very unhappy with Mayor Baldwin and her council cronies. Baldwin and four others (Melton, Forte, Branch, and Knight) are running for re-election. If you want to make sure Raleigh has a new council that will actually engage with all residents and not just wealthy developers who contribute to their campaigns, you must remember to turn over the ballot and mark your choices so we can turn over this council.
Our website features more information on all the candidates, including candidate questionnaires, incumbent report cards, campaign finance information, polling data, and our endorsements.
Our calendar will help keep you informed about candidate forums across the City.
Remember – if you want to flip the council, you must flip your ballot!
This sample ballot represents City Council District A. You may find your sample ballot here: Wake County Board of Elections.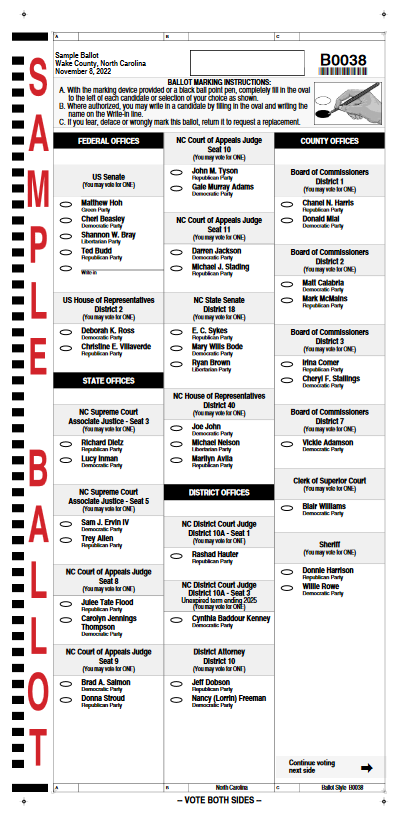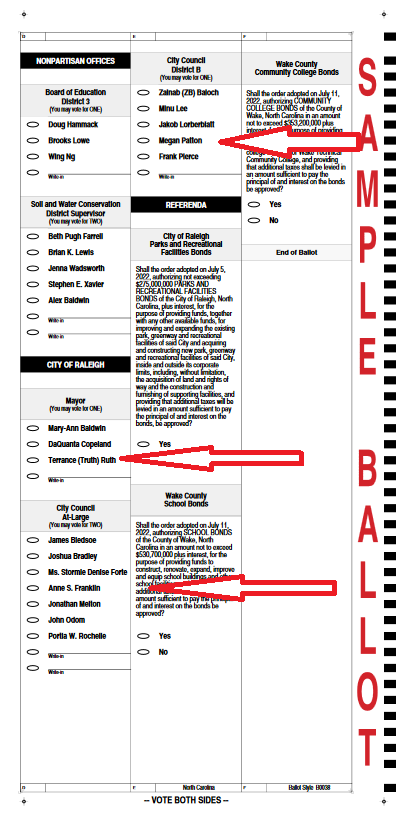 If you appreciate the kind of reporting we bring to you
Please donate $10 or $20,
or whatever you can
to Livable Raleigh.

Thanks for supporting
your local watchdog!