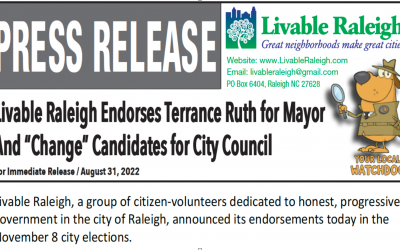 Terrance Ruth is a breath of fresh air for our city, a man Raleigh will be proud to say is our mayor. His election will restore the integrity and decency to the mayor's office that Raleigh voters could count on in the past, but that's been missing these last three years.
With Ruth at the Council table, LR recommends a slate of "change" candidates that, as a group, reflect our organization's commitment to diversity, equity and social justice across racial, gender and age differences.
Each of our endorsed candidates brings a unique, valuable set of experiences that, when brought together on Council, will help Mayor Ruth lead the way to Raleigh's best future.
read more