INDY Week Readers Name Livable Raleigh
Best Local Activist Group – Wake County – 2023
Our sincere thanks to everyone who participated in the event.
We pledge to continue bringing you the kind of local activism you appreciate.
Livable Raleigh was started in the fall of 2019. We're a group of Raleigh residents who are very active in politics; especially local politics. You've heard the phrase, "think global, act local." That's a good description of how we think and take action. We believe in fact-based decision-making combined with active participation in local issues that affect how Raleigh citizens live, work and play.
The Livable Raleigh team is made up of engaged volunteers who love our city as you do and care about quality of life for every resident and all our communities. We work to honor citizen voices, establish good governance, and celebrate healthy, vibrant neighborhoods.
Livable Raleigh is an ALL Volunteer organization.
If you want to Join our Team sign-up here: Volunteer
If you would like to help us continue our work, we gladly accept NON tax-deductible donations here:  Donate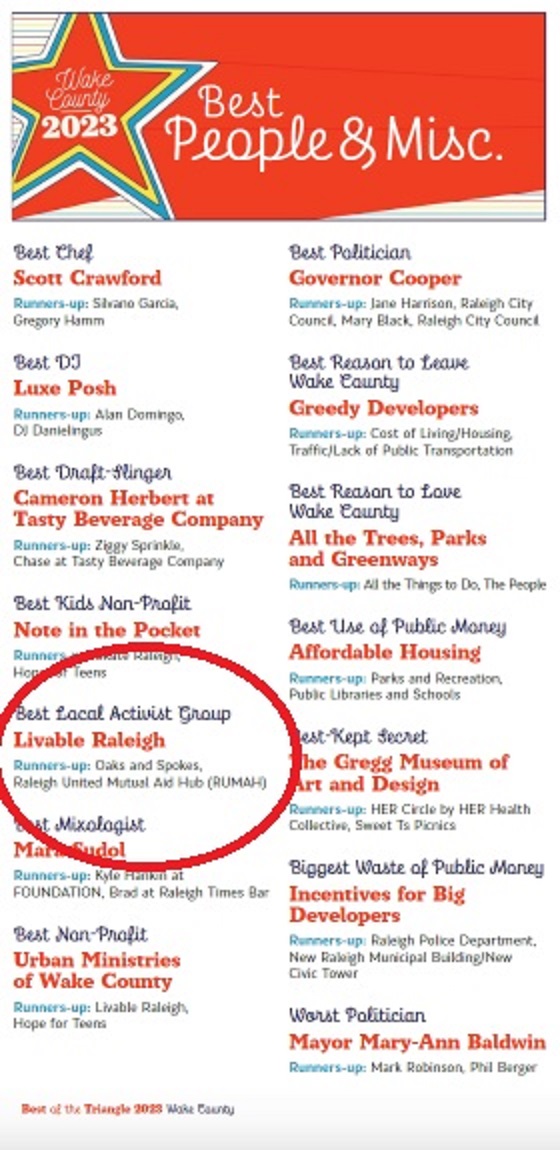 Livable Raleigh Editorial Team
If you appreciate the kind of reporting we bring to you
Please donate $10 or $20,
or whatever you can
to Livable Raleigh.

Thanks for supporting
your local watchdog!