EARLY VOTING: OCTOBER 15, 2020 to OCTOBER 31, 2020
EARLY VOTING LOCATIONS, DATES, HOURS OF OPERATION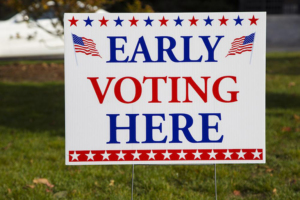 Wake County Board of Elections has produced an excellent, comprehensive document that clearly outlines the Early Voting locations, dates and hours of operation. Click here: Wake County Early Voting PDF.
Registering to Vote when you Early Vote
If you were not able to register to vote before the official deadline of October 9, 2020, there is one more way you can still register to vote and cast your vote in the 2020 General Election on November 3, 2020. You can register to vote and cast your vote at an Early Voting site from October 15 – 31, 2020.
Here is how the process works.
Make a plan. Choose a date, location and time to vote. Allow yourself time to fill out the NC Voter Registration Form and your Absentee Ballot. These are not hard forms to fill out but they will take a few minutes.
Make sure you have important information like your Driver's License and/or the last 4 digits of your Social Security and something that proves your residential address located in Wake County where you have resided for at least 30-days – like a utility bill, bank statement, paycheck or other government document that shows your name and address. For more information click here:

Wake County Early Voting

.
Upon arrival at the Early Voting site, let the Election Official know that you want to Register to Vote and Cast your Vote that day.
The Election Official will direct the filling out of the NC Voter Registration Form. You will fill this out in the presence of the Election Official.
The next form to be filled out is your ballot.
Once you cast your ballot you have voted! Congratulations!