On Tuesday, September 15th I spoke with the City Council about Mr. Mickey Fearn's community engagement presentation from September 8th. I watched Mickey's presentation to City Council that day, and then watched it again several more times during the following week. Why so many times? Because my initial reaction was, "Where are the specific details about Raleigh? Does the City Council have any benchmarks for progress?" There were many things Mickey said that gave me some hope about this process, but I didn't see them documented. His presentation marked the beginning of his contract's 4th month. We tax-payers deserve accountability and transparency of Mr. Fearn's $72,000, 10-month contract. Some serious money is being spent on this process, and the City Council needs to take it seriously.
Below are my presentation slides and text. My remarks are immediately below each respective slide. You can click on each slide image in order to see a PDF in a separate pop-up window. Thanks for being interested in our city's community engagement. — Mike Lindsay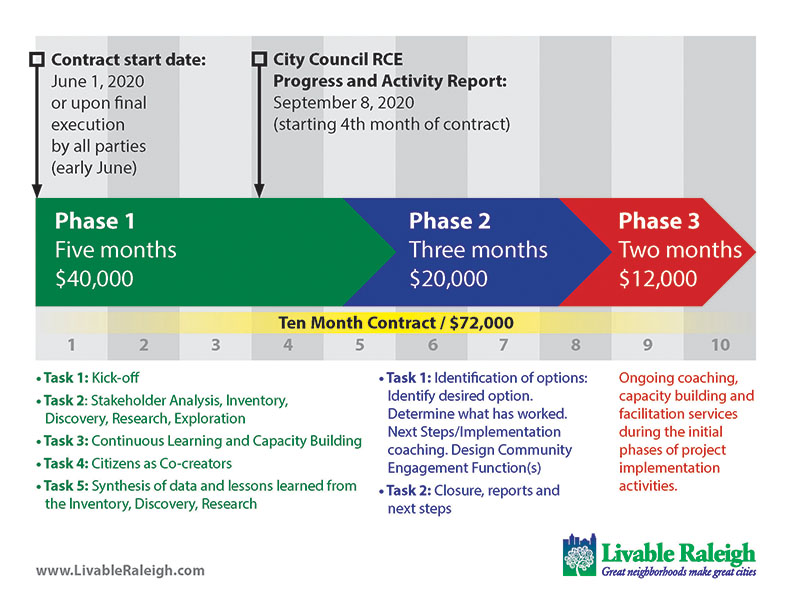 Hi Mayor Baldwin and City Council members. Thank you for this opportunity to speak with you. I want to talk about Mr. Fearn's community engagement presentation to City Council last Tuesday. My focus will be on accountability and transparency. As my chart indicates, we are now into the 4th month of Mickey Fearn's $72,000, 10-month contract. How do we citizens know what progress has been made, and how can we be sure our money is being well spent? (next slide please)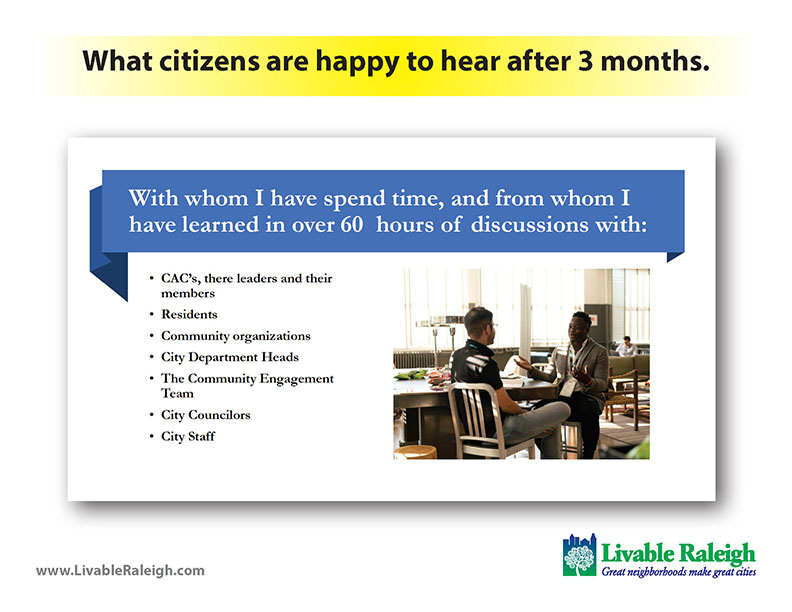 Here's something from Mickey's presentation that gives some of us hope. He has met with a variety of people and groups who play a significant role in Raleigh's public life. While the mix is good to know, what's missing are the details. I know of several meetings with Mr. Fearn, only because I attended them; one was with the RCAC leadership, and the other was with a community organization called Livable Raleigh. I can happily tell you that Mickey spent well over two hours with us. That is something worth knowing. Just like it would be good to have a public record of all Mr. Fearn's meetings. Since last Tuesday, I've talked with Ulysses Lane (the South East CAC president), Donna Bailey (the Hillsborough-Wade CAC president), and Christina Jones (the RCAC president). All three have met with Mr. Fearn. Christina gave Mickey contact information for all the CACs, and knows he has met with the Midtown CAC and the Mordecai CAC, but isn't sure about any others. Shouldn't the City have a web page devoted to community engagement that regularly updates Mickey Fearn's progress and meetings? Also, that page should have links to the website that Mr. Fearn's daughter is working on. Having information easily available to the public will help rebuild trust in this City Council. (next slide please)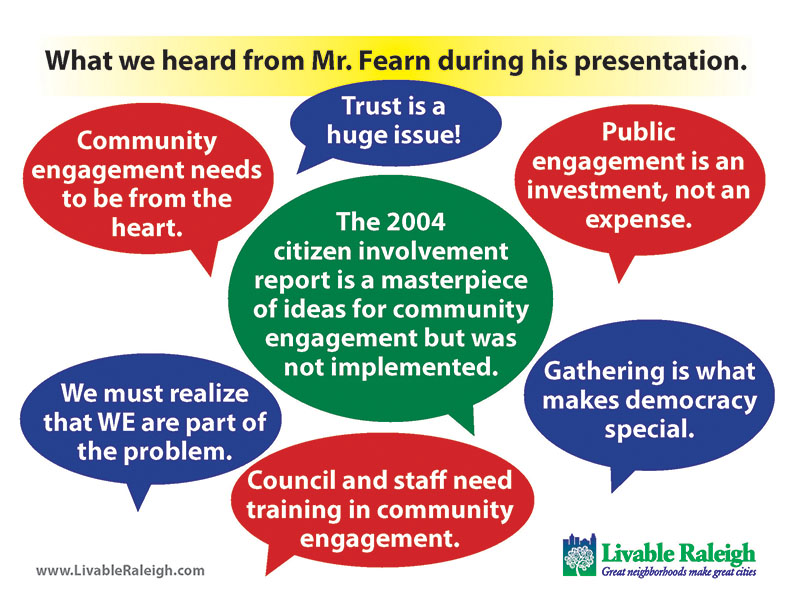 As you can see at the top, "trust" is something we heard loud and clear during Mr. Fearn's presentation. In fact there were many things he said that got our attention, but didn't show up in his slides. I call your attention to the green bubble in the middle. Mickey talked about a 2004 citizen involvement report and said it was a masterpiece. It wasn't listed in his slides, but do you recall him talking about it? Do you know about the report? (next slide please)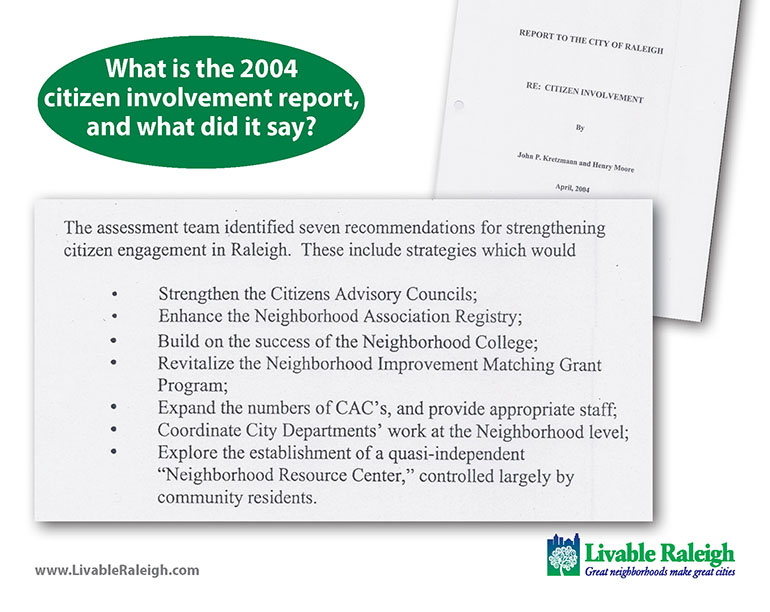 Please take a look at the report's seven recommendations for strengthening citizen engagement in Raleigh. Has anyone on the current council read this report? Did those who voted to abolish City support of CACs ever read it? Mickey Fearn apparently thinks it's worth reading. How many times has Raleigh spent money on a consultant's report, only to ignore the recommendations? I have no idea, but we need to get it right this time. (next slide please)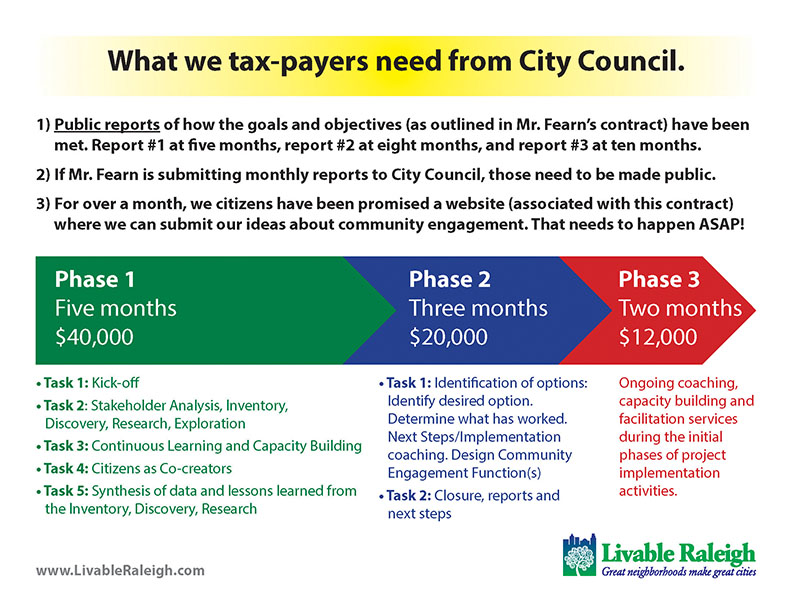 In the spirit of accountability and transparency, I hope this Council will take the following three actions: (1) Public reports at all stages of Mr. Fearn's contract with details, not generalities, (2) monthly reports made public, if he is submitting them to City Council, and (3) the website we've been promised, along with a public engagement page on the City's website that allows all of us to be informed of progress and to participate.
Thank you for listening and taking action!