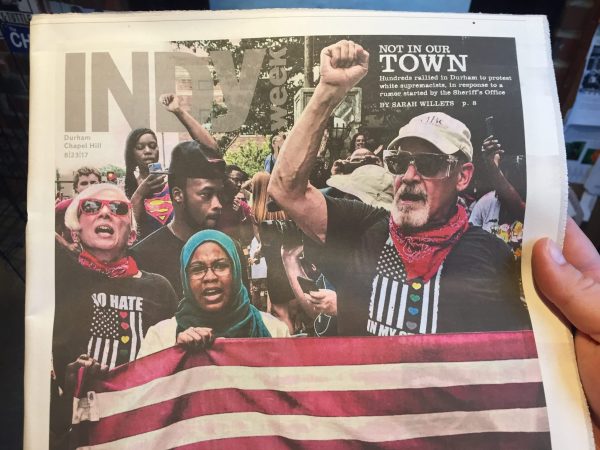 Tony Quartararo spent 46 years making his way in the corporate world jungle. After retiring in 2014 he swallowed the "red pill" and truly saw the harsh realities in American Society manifested in racism, economic oppression, homelessness, the poverty draft, the results of hating the "other," i.e., homophobia, xenophobia, Islamophobia, misogyny, as well as the devastating effects of militarism, environmental destruction, the worship of guns over children  and Christian Nationalism. He has used his voice in the halls of power and in the streets to make the comfortable uncomfortable and to give voice to the voiceless.
Tony delivered the following comments to City Council at the January 3rd meeting:
I am not representing any organization, I am speaking tonight as a citizen who is concerned that the Raleigh City Government, as represented by this Council, is not fulfilling its obligation under the city charter of 1949 (the only one I could find) regarding "…. maintaining and promoting peace, health, comfort…. and general welfare of the inhabitants of the city….". BTW- There is no comment on making John Kane rich.
First I would like to commend the Raleigh Fire Marshal for stopping several faith organizations last week from setting up White Flag Shelters which did not meet fire code. The Marshal was potentially saving lives.
Those organizations were attempting to provide shelter to houseless people who were trying to avoid below freezing temperatures – these organizations were also trying to save lives, under exigent circumstances.
So, my question is why did these organizations feel the call of their faith to save lives, but the Raleigh City Government, chartered to maintain and promote health and comfort, did nothing itself?
Is it because there are no physical resources available to the city? I read last week that El Paso (population 679,000) housed 300 migrants from the cold in their 133,000 square foot civic center. Raleigh, with a population of 474,000 people, has a Civic Center with 500,000 square feet, almost 4 times larger than El Paso.
Our Civic Center boasts on its website "With flexible accommodations for groups of 5 to 100,000, we have the right space for your event." So, we have the physical resource.
Why isn't the City using its own space to house those who are the most vulnerable?
In June 2022 the City sent out a Request for Interest (RFI) to develop city owned property alongside the Convention Center – a hotel and mixed-use residential tower.
Why isn't low income & affordable housing part of the RFI? Why not create housing for the houseless and low wage workers employed downtown?
I believe 3 people froze to death in this area, including one in Raleigh, last year.
How many deaths will it take for the City Council to protect ALL citizens and stop obfuscating and then abrogating its responsibilities to "promote health, comfort, and the general welfare of its citizens?"
I hope this new Council does more than Looking but not Seeing the poor and houseless, Listening but not Hearing those who advocate on their behalf, and remembers the words:
"That what you do for the least of these, you do for me."
Thank you
If you appreciate the kind of reporting we bring to you
Please donate $10 or $20,
or whatever you can
to Livable Raleigh.

Thanks for supporting
your local watchdog!