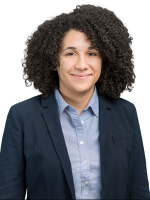 Jaelyn Miller is a civil rights litigator, a novice woodworker, and the Community Lawyering Fellow at Emancipate NC. At Emancipate NC, Jaelyn focuses on representing individual plaintiffs in police misconduct litigation involving unlawful arrests and First Amendment violations. Jaelyn also works with organizers to provide community trainings that work to inform community members of their rights. Prior to joining Emancipate NC, she practiced litigation at two different law firms, one regional and the other national.
Jaelyn spoke to City Council on September 12, 2023:
Good afternoon, my name is Jaelyn Miller and I am an attorney and a resident here in Raleigh.
I am here tonight on behalf of the Raleigh heart coalition to voice my support for the proposal sent to the council last week.
The coalition is composed of nonprofit, health care, and faith-based organizations.
Our Coalition, through that proposal, is asking the city council to embed a mental health professional into the 911 call center to divert calls from police to unarmed community response teams and ACORNS and we are asking the council to house these programs under a newly created department of public safety, not under RPD.
The proposal outlines several benefits that will be gained from implementing a program like this including millions in cost savings to the city, a decrease in the crime rate, and savings on police resources, which is particularly important given the shortage of police officers that Raleigh faces right now.
Raleigh recently had to hire private security to cover certain areas of downtown because of the shortage of RPD officers, which in addition to being costly, is also a very dangerous thing. So instead of spending more money on a temporary solution that will not solve the problem, the Coalition is offering a common sense solution that saves on officer time and that has been praised by officers themselves.
The vast majority of people with mental illness here end up in two places: jail or the emergency department and both are busting at the seams because neither was built to provide the needed resources. We need unarmed community response teams and ACORNS to be directly dispatched to the scene to divert folks from jails and EDs. The only way to do that is to have diversion at the 911 call center, rather than rely on officer referral.
In NC alone, there are several cities that have implemented programs identical or similar to the ones the coalition is asking for, including, Jacksonville, Winston-Salem, Durham, Greensboro, Mecklenburg County, Chapel Hill, and more.
So right now Raleigh is trailing behind many cities in NC which have realized that officers do not want to spend 2-3 hours on a call having to be a mental health professional. For many of them, that is not what they signed up to do and that is why, once these alternative units are implemented, officers praise them because it allows them not to be spread thin and it handles their most time consuming calls.
On a personal note, and there are many in our coalition that have personal experiences that make this issue very near and dear to our hearts, I think when we talk about this issue we always highlight the numbers, the data, the money and those things are all good things to be aware of, but I think we forget that we are talking about real people.
There are real people whose lives can be saved in more ways than one through implementing this program. In 2016, I had my life saved by the alternative crisis unit in Chapel Hill. So I think it's important to remember that this program will have real lasting impacts on peoples' lives and change their lives in massive ways.
If you appreciate the kind of reporting we bring to you
Please donate $10 or $20,
or whatever you can
to Livable Raleigh.

Thanks for supporting
your local watchdog!