At the first meeting of the new Raleigh City Council on December 6th, I spoke about what our Hillsborough-Wade CAC has been accomplishing over the past 3 years since the previous City Council majority voted to abolish City support of CACs. (Click here to watch the presentation.) We've had many meetings covering a wide range of subjects important to Raleigh residents and our elected representatives. In the 2 minutes I had to speak, I could only cover a portion of the presentations made by our wonderful City staff and other experts, including the State's Chief Climatologist, consultants, CEOs and housing experts. Here's the list:
Raleigh's new Community Climate Action Plan

A Study on Raleigh Community Engagement

Raleigh City Parks (strategies to make Raleigh greener)

 

Raleigh's new Community Engagement Office

Many Rezoning Cases

The Master Plan for Raleigh's Greenway System

Monthly City of Raleigh Police Calls Reports

 

Presentation on Urban Heat Islands

Report on "Zoning Codes for Small Abodes" and Proposed UDO Changes

Report on "Tiny Homes Raleigh"

Presentation on "Missing Middle Housing"

Status Report from the Hillsborough Street Community Service Corporation (HSCSC)

Presentation on Raleigh Parks Bond

 

HOST Program: Housing Options for Students Today

Accessory Commercial Units
Our CAC is doing the volunteer work Raleigh desperately needs: two-way communication between residents and the City of Raleigh (both staff and our elected representatives) covering a wide range of important topics that residents need to know about, and the City needs to hear what we residents think about these issues.

To help us continue this important work, I asked the City of Raleigh to throw us a lifeline while they continue to figure out the future of community engagement in Raleigh. This process has been taking way too long (almost 3 years) and we need help now! I asked the City Council to help all the surviving Citizen Advisory Councils with three things:
Access to meeting spaces

Use of a City Zoom account

And use of video equipment
I hope the City Council will move quickly to grant this simple request.

— Michael Lindsay, Chair of the Hillsborough-Wade CAC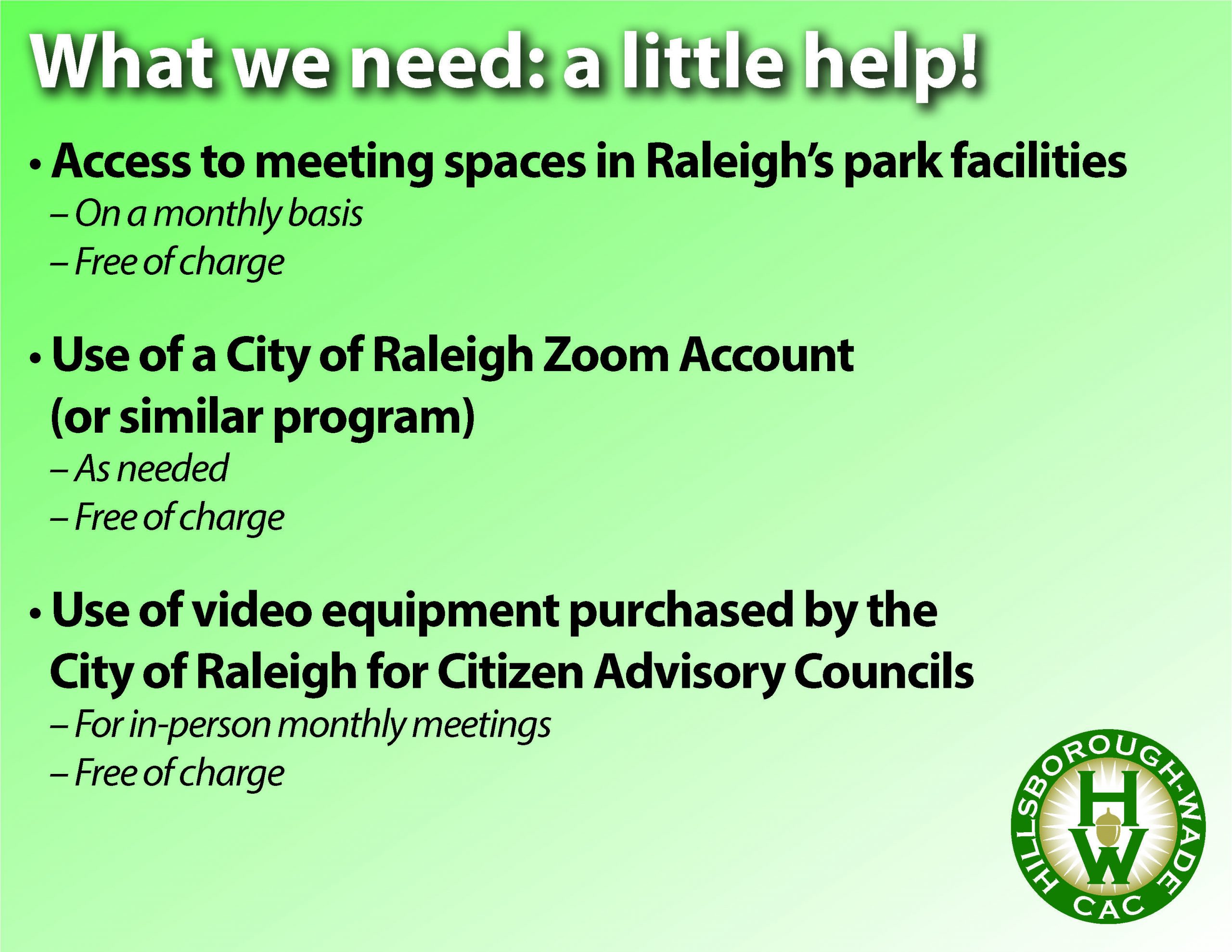 If you appreciate the kind of reporting we bring to you
Please donate $10 or $20,
or whatever you can
to Livable Raleigh.

Thanks for supporting
your local watchdog!