Ms. Lenora Southerland, age 82, poses for a portrait at the bus stop near her Raleigh home on Wed, April 14, 2021 (Photo: JULI LEONARD JLEONARD@NEWSOBSERVER.COM)
Dear Friends,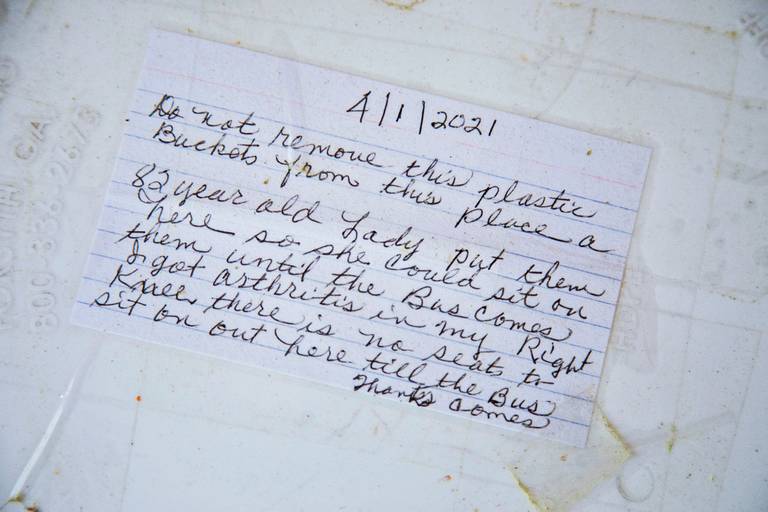 The N&O published an excellent, but disturbing, article about Ms. Lenora Southerland of Walnut Terrace. Ms. Southerland, age 82, is forced to sit on two white buckets while she waits for a bus, because there is no bench or bus shelter at her bus stop on Levister Court. Ms. Southerland has arthritis in her right knee and cannot stand to wait for the bus. Since there is no bench or bus shelter she has "reserved" the two buckets by leaving an index card on them saying that these buckets are not trash but they are used as a seat so she can sit and wait until the bus comes. 82-year-old sits on buckets to wait for bus in Raleigh. Why doesn't she have a seat?
This, my friends, is Raleigh in 2021. Reading the N&O article made me feel embarrassed, angry and sad. What can we do about providing more benches and shelters for bus riders in Raleigh?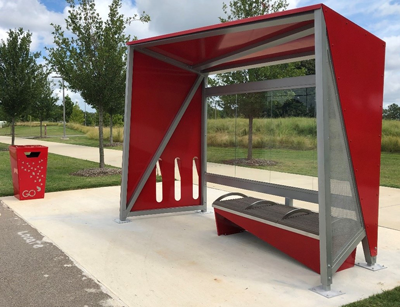 Over the course of the next several weeks, Livable Raleigh will continue to report about bus shelters and related transportation issues. The solution here is to ask the city management to free up funds to enable a faster, more equitable installation of bus shelters in Raleigh. If this means that the more expensive red shelters become a "limited edition" that's OK! It is better to be practical and moral. Let's push for installation of the regular bus shelters we currently have along with benches to as many bus stops as possible. Let's help those most in need, please! By installing more benches and bus shelters, it will increase bus ridership and may provide a few more jobs for the accelerated installation.
Raleigh should be a city we are proud of calling home. No one should be forced to resort to sitting on a bucket while waiting for a bus. Our city government needs to take immediate action to ensure that all bus riders, in ALL parts of Raleigh, have access to a safe, accommodating bus stop.
When you give a person a bench to sit on, you are saying "I respect you."
Susan Maruyama
Chair, Livable Raleigh