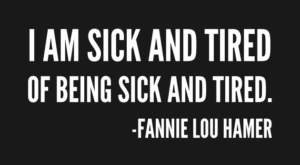 We're sharing the commentary below by Wanda A. Gilbert-Coker on the City Council's decision to hire a consultant, Mickey Fearn, to devise a plan for civic engagement in Raleigh. This Council dismantled the city's primary civic engagement program, the 18 Citizen Advisory Councils, in February.
[Jonathan Melton and Nicole Stewart are the two Council members elected at large. All 6 votes to dismantle the CACs were cast by white Council members. David Cox, who is white, and Corey Branch, the only black Council member, dissented.]
By Wanda A. Gilbert-Coker
The network of CACs benefited the Black community. It was an opportunity for Black people to voice their concerns on City issues. Also, it empowered the Black community to organize against gentrification.  This is why it was dismantled.
Jonathan Melton and Nicole Stewart have both benefited from gentrification.  Both of them live in what were predominantly Black communities.
Though both of them live in District C, neither one of them ever attended my CAC. And from the accounts of other Black CAC leaders in SouthEast Raleigh, neither Jonathan nor Nicole have ever visited their CACs either.
Nevertheless, Mary-Ann Baldwin, Jonathan Melton, Saige Martin, Nicole Stewart, David Knight, and Patrick Buffkin used their white privilege and made a decision on what was best for us.
Eleven of the 18 CACs "were" in the Black community. Eight of those 11 have been totally gentrified or are in the process of being so.
Mary-Ann and the five other City Councilors have already shown us that you all's white privilege matters and our Black lives don't.
We Are Sick and Tired
Nicole and Jonathan moved into our Black community and now decide what is in the best interest of us… the Black community.
If anyone needs Mickey Fearn's help, it's you all.
Not us…!!!
We are sick and tired of you white City Councilors speaking for us and voting against our best interest.
In fact, the City of Raleigh and Ruffin Hall and Larry Jarvis should have used that consultant money for continuous racial equity training.  This City is run by white supremacy and capitalism. Y'all do what the developers and gentrifiers voted you in to do.
Y'all gave millions to restore those gentrified businesses in downtown Raleigh. But managed to scrape together only $100,000 for those most vulnerable and impacted by COVID-19.
This commentary was first posted to Facebook.
Watch Fannie Lou Hamer's historic testimony about denial of African American rights: https://www.youtube.com/watch?v=07PwNVCZCcY&feature=youtu.be