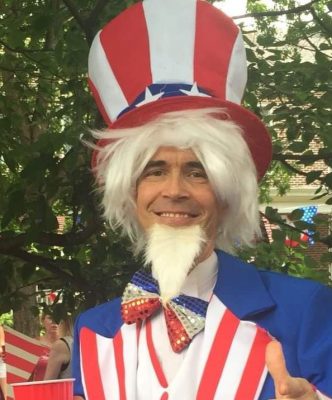 Matthew Brown has restored three historic houses in Raleigh, and has assisted with the restoration of many others. He has financed renovation of six houses for affordable housing.
Matthew spoke to City Council on April 18, 2023 on the topic of saving Raleigh's historic homes.
Good afternoon. Thank you for your service, and thank you for letting me speak. I mean that sincerely, as I know you were here until close to midnight a couple weeks ago.
I have been showing photos of the historic treasures and affordable housing that will likely be lost if they are included in the T.O.D. (Transit Overlay District) rezonings, and I will be showing more. But you are probably wondering why these are included in the rezoning, since they are so valuable to our city.
We asked the planner in charge of this proposal, and he told us quite honestly: He drew the district lines on a map to include parcels close to the proposed Bus Rapid Transit. He doesn't know the people who live on these parcels. In most cases, he doesn't know WHAT is on the parcels. And that is not his fault. He just moved to Raleigh a few years ago. His job title is "technology analyst."
This sort of rezoning is the current fashion for city planners. Back in the 1960s, there was a similar fashion, called "urban renewal." It meant tearing down old neighborhoods, often black neighborhoods, and putting in expressways and housing projects and office buildings. They tore down Raleigh's Fourth Ward, Smoky Hollow, and the old North Side.
Plans called for demolishing South Park, old East Raleigh, and Oakwood, and putting in an expressway. But in 1974-75, the City Council finally listened to the citizens, and put a stop to the plan.
Clarence Lightner was Mayor. Council members Miriam Block, Reverend Bashford, Randy Hester, Jim Quinn, and Ron Kirschbaum voted down the expressway and saved Oakwood and old East Raleigh and South Park. We will always be grateful to these excellent leaders.
Now, as back then, the planners draw lines around parcels on a map. Now, as back then, what gets forgotten is the PEOPLE who live on those parcels. People who will get kicked out of their apartments because their landlord sells out to a developer. Homeowners who find their beloved home wedged between tall buildings. And people all over Raleigh who appreciate our historic treasures and hate to keep losing them. And most of these people still don't realize what is coming.
But YOU, City Council, were not elected by parcels on a map.
You were elected by the PEOPLE.
And I know that most of you care about the people and have made a commitment to serve the people.
Please remember that commitment as you consider this T.O.D. proposal.
If you appreciate the kind of reporting we bring to you
Please donate $10 or $20,
or whatever you can
to Livable Raleigh.

Thanks for supporting
your local watchdog!