This just in, The TAA (Triangle Apartment Association) is promoting an "Evictions Update Webinar" being hosted by AANC (Apartment Association of NC).
As the NC Council of State has voted to end the state's eviction moratorium, we feel now is a good time to re-examine the relationships between members of Raleigh's City Council, the Triangle Apartment Association and a Full Service Eviction Service who notes now is a good time to clean out less than desirable tenants. This is a blog we published one year ago that is relevant again today. 
1.

Pain
The COVID-19 pandemic has landed like a ton of bricks on Raleigh's working poor who have lost their jobs and are having to choose between feeding their families and scraping together the back rents that will come due when the eviction moratorium ends on August 1st.
Through no fault of their own, families are facing eviction and homelessness at a rate greater than in the Great Recession, when evictions spiked at over 9%. Sadly, there are powerful development industry groups in the Triangle seeking to turn the pain of vulnerable families into profits and political influence.
2.

Profit
Anticipating a 'tsunami' of evictions, the Triangle Apartment Association (TAA) is working hard
to protect profits: on one hand, by lobbying Congress for rental payments and on the other hand, by ramping up their eviction game plan with the help of Loebsack & Brownlee, their 'full service' eviction service and prominent sponsor of TAA's newsletter.
Loebsack promotes a cheery attitude toward a dirty business by highlighting the need for more Mental Health Assessments in this time of spiking evictions. Their social media post helpfully points out the populations most likely to be stressed – gay, trans and people of color. In case you aren't sure about their motives in highlighting these risky renters to their TAA clients, one need only read a recent Loebsack memo uncovered by National Public Radio affiliate WFAE in Charlotte:
Loebsack advises it clients, including TAA: "You may want to consider now to be an ideal time to do some 'housekeeping' with your tenant list by filing cases for all the non-rent lease violations you've always just put up with, and thereby cleaning out some of the bottom-of-the-barrel tenants you don't really want on your rent rolls when the Moratorium ends, anyway!"
Triangle Apartment Association is working hard to profit from the pain of pandemic evictions with the help of Loebsack which underwrites TAA's online communications. In return, TAA is calling for an end to the eviction moratorium, thereby boosting Loebsack's "housekeeping" business.
3.

Power
We understand the connection between the Pain of pandemic evictions and the Profits to be made by TAA and Loebsack, but what is the connection with the other 'P' in the blog title: Power? Let's Follow the Money:
The TAA was a BIG PLAYER in Raleigh's 2019 municipal election.  TAA made direct contributions to the campaigns of many candidates.  And their associated PAC, the Triangle Government Alliance, made large independent expenditures for direct mail, social media advertising and polling data on behalf of that same slate of candidates.
TAA and their PAC supported a preferred candidate in every race.  The candidates receiving direct campaign contributions from TAA are: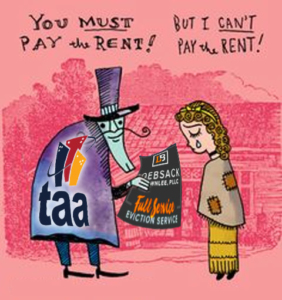 Mary-Ann Baldwin  –  $2,000
Nicole Stewart        –  $2,000
Jonathan Melton     –  $2,000
Patrick Buffkin        –  $1,500
Brian Fitzsimmons  –  $3,000
Corey Branch         –  $1,000
Saige Martin           –  $1,500
David Knight           –  $3,000
TOTAL                      $16,000
In addition, the TAA PAC spent over $105,000 in independent expenditures to benefit these same candidates. In total, over $121,000 was spent to elect a mayor and councilors who would deliver, like Loebsack, valuable favors in return for the TAA cash.
Make no mistake. With the help of Loebsack, TAA is targeting vulnerable populations in order to profit by "cleaning out some of the bottom-of-the-barrel tenants you don't really want on your rent rolls" and they are counting on the councilors they bankrolled to keep eviction diversion funding to a token level, so the rental economy can come back strong with better tenants once the eviction moratorium is over.
The TAA campaign donations are dirty money. We call on the mayor and councilors who took TAA money to donate it, along with council contingency funds, to Eviction Diversion Legal Aid now.