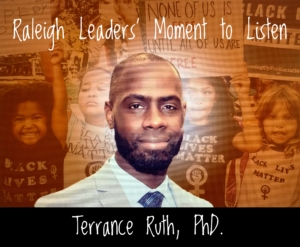 During the holidays we are re-posting some of our favorite guest blogs while we take some time away from our hectic schedules. Here is an important message from Terrance Ruth.
By Terrance Ruth
Raleigh is at a pivotal moment, a moment where leaders must listen. For a city that has received so much praise for its quality of life as a great place to live, work, and raise a family, Raleigh's leadership is being questioned by its most important stakeholders, the community.
Beneath the glory and buzz of startup hubs, amazing restaurants, and continuous development, lies this difficult question: Who is benefiting from Raleigh's success and who is Raleigh's success ignoring?
2020 has challenged the depth of Raleigh's success and community leaders are calling for new city leadership. We have seen a diverse group of protesters for weeks. We have seen council meetings saturated with residents' speeches. We have seen council members resign and be asked to resign, by residents. What is at the core of this relentless citizen dissatisfaction? Why have so many taken to the streets in a city that has such a promising outlook?
This outcry by community members can be partially attributed to a systematic silencing of the community's voice. From all that has occurred so far in this defining year, the consistent thread is the request by community members to be taken seriously and to be heard by Raleigh's leadership.
Many low-income people of color live in the most neglected areas of our city. These communities have been systematically shut out of wealth-building opportunities of the last century. Gentrification, environmental neglect, and other negative side effects of Raleigh's never-ending growth have come at the expense of those who have been the most excluded from policy decisions on how Raleigh develops and how it cares for all of its residents.
It is time for Raleigh to become a city where growth decisions are intentionally embedding equity and respect for community voices, allowing benefits to be shared by the least among our citizens. It is time that Raleigh's leadership implements policies and practices that dismantle barriers to residents' engagement and empowerment.
As a city, we must equip residents with the opportunities and resources they need to meet their basic needs: jobs that pay livable wages, efficient transit, safe and affordable communities, and a sustainable, livable environment. Equally important is that leaders create a sense of community that is based on a shared vision of how to create and nurture a well-managed city that is accessible to all.
I believe Raleigh can do this by becoming more inclusive, just, and human-centered. Our city leaders can and must restore the public's trust and allow more citizen voices to be at the table to help create solutions that reflect the needs and rights of all of Raleigh's residents.
I stand with those who seek to amplify, deepen and multiply efforts to build an equitable, thriving Raleigh that values the voices and participation of our residents. Raleigh leaders, do not miss this moment to listen. 
Terrance Ruth, PhD
Dr. Terrance Ruth has been an advocate for public education, serving as a teacher and principal, and is the parent of a son who attends public schools in Wake County. Dr. Terrance Ruth has worked in K-12 schools across Florida and in Wake County. A former Administrator for Wake county Public Schools, he continues to serve as an Education Consultant to numerous nonprofits.
Dr. Terrance Ruth has led social justice organizations at the national, state, and local levels with a reputation for being the implementation expert.  He served as the NC NAACP Executive Director under Dr. Barber and Dr. Spearman and has served as National Director of Programming for the Repairers of the Breach.
Terrance is a Lecturer at NCSU and serves as President at Justice Love Foundation.