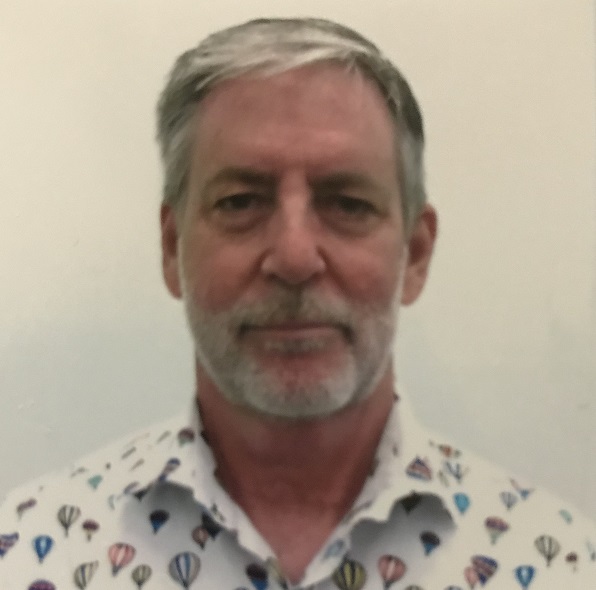 Tim Niles is a founding member of Livable Raleigh and has been a resident of Raleigh for over 30 years.
At the June 6, 2023 City Council meeting he delivered these public comments: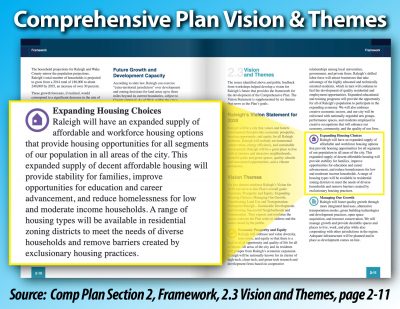 I want to talk about the Vision Themes in the Comprehensive Plan.
Specifically "Expanding Housing Choices" shown here.
The language and its intent are clear.
Source: Comp Plan Vision Themes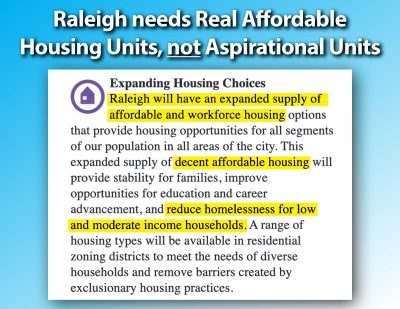 Raleigh will have an expanded supply of affordable and workforce housing
Decent affordable housing
To reduce homelessness for low and moderate income households.
It's intended to apply to affordable housing. Real units, not aspirational units.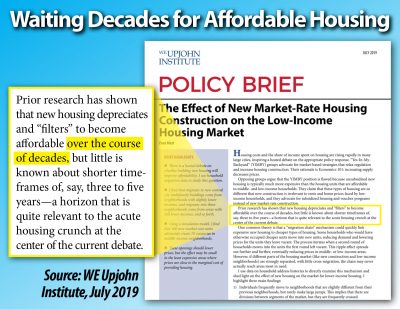 From an Upjohn report, cited by staff we see this.
New housing filters to become affordable over the course of DECADES.
Little is known about a shorter horizon of 3-5 years that is relevant to the current debate.
In Raleigh, when filtering happens, those properties are brought back to be upzoned as evidenced by the apartments at Monticeto and Quail Ridge and Clover Lane.
Or, naturally occurring affordable housing is scraped off and replaced with luxury units through the Missing Middle.
Source: WE Upjohn Institute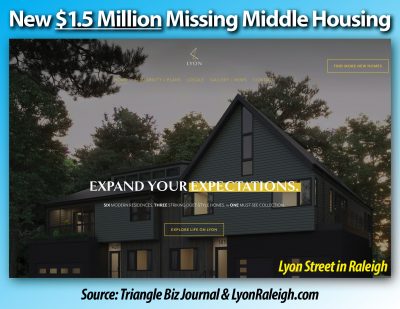 This development is offering 4,000 square foot duplexes for over 1.5 million dollars.
Sources: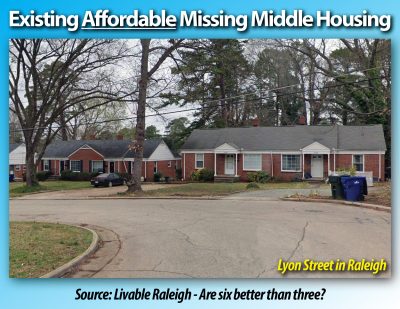 Will these existing affordable duplexes on the same street be the next to fall to the Missing Middle?
Source: Are six better than three?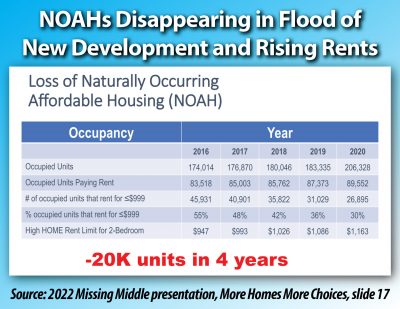 Intentional or not, staff's interpretations of the Comp Plan and Missing Middle rules are not promoting affordability. Instead they promote the destruction of existing affordable units in favor of market rate and luxury units that drive up land and housing costs. Over 4,000 units lost each year according to the city's own data, making Raleigh's affordable housing crisis worse, not better. 
Source: Missing Middle Presentation 2022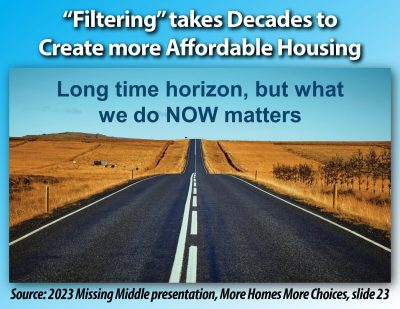 As staff notes, filtering is a long time horizon and it's what we do NOW that matters.
I ask you NOW to stop the misleading practice of claiming zoning cases with zero units of affordable housing are consistent with a vision of creating affordable housing.
Source: Missing Middle Presentation 2023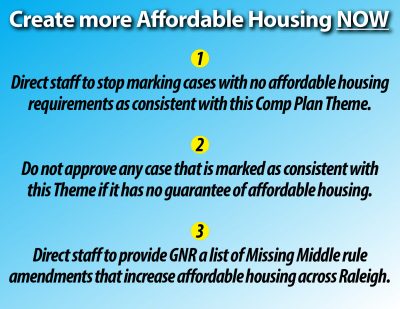 1. Direct staff to stop marking cases with no affordable housing requirements as consistent with this Theme.
2. Refuse to approve any case that is marked consistent with this Theme if it has no guarantee of affordable housing.
3. Direct staff to provide the Growth & Natural Resources Committee, in 30 to 60 days, a list of Missing Middle amendments that promote affordability, making it profitable to preserve, renovate and increase affordable housing across Raleigh.
Finally, Mayor Baldwin and Councilor Melton. Please STOP claiming you support the LGBTQ+ community as you both did during this afternoon's meeting. You both REFUSE to support a resolution condemning the State Legislature's anti-LGBTQ+ legislation. You might as well just join with Tricia Cotham in providing cover for the Legislature's bigoted agenda.
If you appreciate the kind of reporting we bring to you
Please donate $10 or $20,
or whatever you can
to Livable Raleigh.

Thanks for supporting
your local watchdog!