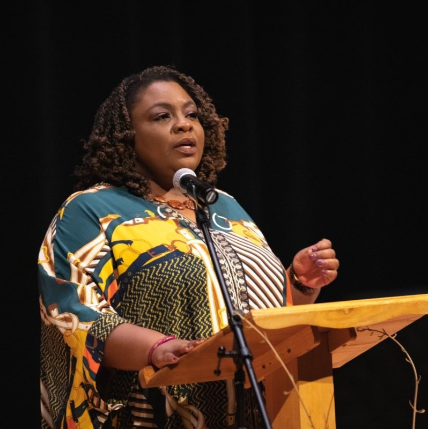 Dawn Blagrove is an attorney and activist who worked for close to a decade on behalf of incarcerated people at NC Prisoner Legal Services. She now serves as Executive Director of Emancipate NC, a community organization that works to dismantle structural racism and mass incarceration across the state. Emancipate NC's focus areas include bail reform, ending youth confinement, police reform, and restorative justice. 
At the August 15, 2023 City Council meeting Ms. Blagrove delivered these public comments:
Good afternoon. My name is attorney Dawn Blagrove. I am the Executive Director of Emancipate NC.
I had remarks prepared however, like so many others, I have been moved to speak contemporaneously about some of the things that we've heard here.
The two words that have come to my mind over and over again as I sat here for the last two hours are Political Will.
This city council does what it wants to do. What is expedient for it to do. What it feels good for it to do. But it does not do things that are not politically safe.
We have come here for years asking for accountability measures to be put in place for the Raleigh Police Department. And have got nothing.
However these folks who had a perfectly good transportation system had an entire new one implemented on them. All kinds of resources put into creating something no one wanted.
Political will!
The people didn't elect you to do what you wanted to do. The people elected you to do what the people need.
I tell you what – I came here to talk about proactive policing.
And I have the perfect solution.
Instead of having fifteen Raleigh police officers show up to harass people in Southeast Raleigh – why don't you send them to pick up some of these blind folks that are waiting for four hours at a time to get back home?
I will say it again. Political Will!
If you have the will to do what is best for the people of Raleigh, you can do it. We've seen it. Obviously you've implemented an impotent program that nobody uses or wants and it's putting people in danger instead of creating safety for the people of Southeast Raleigh
Find the political will to do what is right for the people!
If you appreciate the kind of reporting we bring to you
Please donate $10 or $20,
or whatever you can
to Livable Raleigh.

Thanks for supporting
your local watchdog!