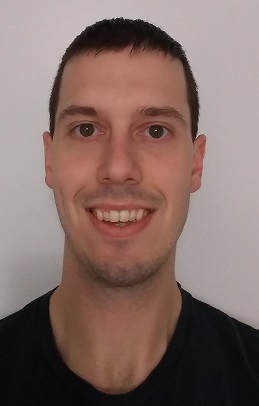 Cole McMullin, an active member of Raleigh Democratic Socialists of America submitted this blog to Livable Raleigh for publication.
In June of 2021 during an afternoon city council meeting, Mayor Mary-Ann Baldwin stated her desire that residents wishing to sign up for public comment be required to list their topic. At the time, residents raised concerns that such a requirement would lend itself to abuse and censorship of free speech. Fast forward to the present day and it appears these fears have come to fruition.
An email dated March 1, 2023, obtained through a public records request, shows communication from the Raleigh City Clerk to the Raleigh City Manager in which the clerk details a timeline of events that resulted in two speakers being removed from public comment at Mayor Baldwin's request.
On June 6, 2022 Mayor Baldwin asked a deputy city clerk to remove two speakers signed up to speak about community reparative justice, under the guise that the city would schedule a public hearing on the matter "soon." This breaks decades of precedent in which speakers signed up for public comment are allowed to talk about any topic as long as there is not a public hearing on that topic already scheduled (to comply with public hearing rules that equal time be allocated to both sides). The deputy city clerk complied with Mayor Baldwin's request, and notified the two speakers that they were being removed from public comment.
On January 17, 2023 Councilor Christina Jones asked about individuals being removed from the public comment sign up. The city clerk indicated there would be a report back which occurred on March 1, 2023 via email.
View the public records below. First, the March 1, 2023 email from the City Clerk to the City Manager and second, the timeline of events from May/June of 2022.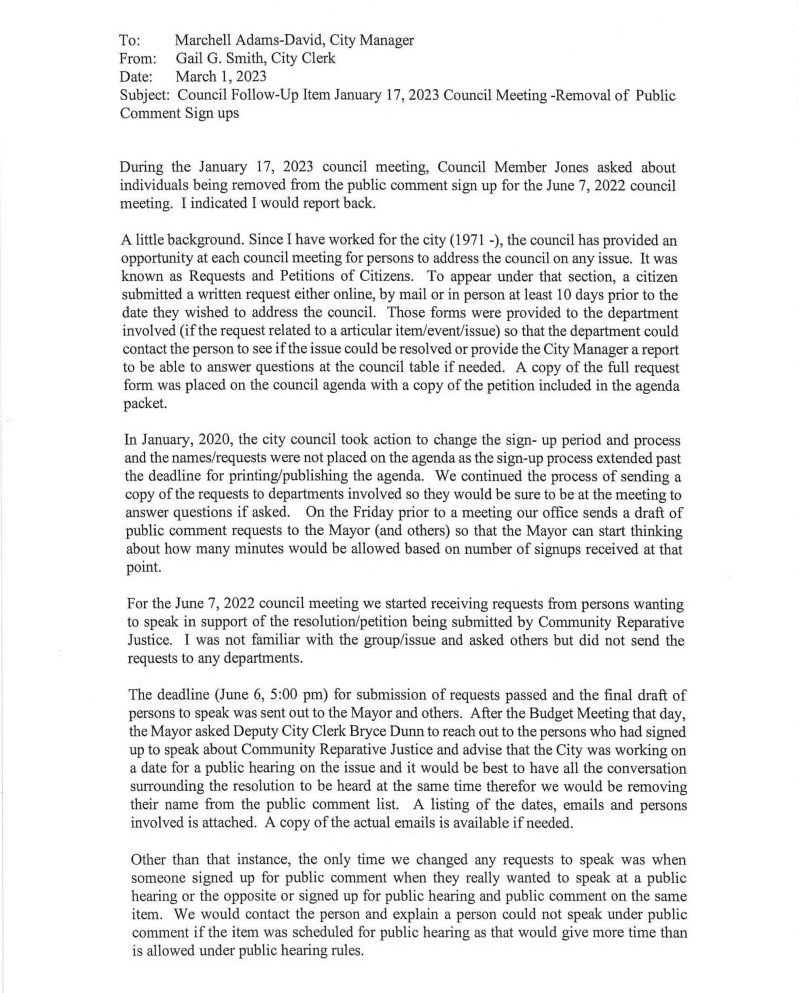 During the March 21, 2023 afternoon council meeting, Councilor Jones directly asked Mayor Baldwin if she had indeed authorized the removal of two individuals from public comment with the promise of a public hearing that, to this day, had yet to occur or be scheduled. Mayor Baldwin simply stated "no," which is in direct contradiction to the email authored by the city clerk. When pressed for further explanation, Mayor Baldwin claimed to have no knowledge of public hearings regarding reparative justice.
View Mayor Baldwin's bald-faced lying in response to Councilor Jones' questions below:
This is a deeply concerning revelation with far reaching implications for free speech in the city of Raleigh. It is unclear what (if any) action will be taken to hold Mayor Baldwin accountable. However, it is clear from this timeline of events that the Council code of conduct (which by Mayor Baldwin's own admission has no teeth) needs to be updated so that Raleigh elected officials are empowered to hold each other accountable.
The public deserves an explanation from Mayor Baldwin regarding this issue, and assurances that this will never happen again. It is my hope that a vision for accountability of Raleigh elected officials is a serious topic of conversation in the community moving forward that is followed up with concrete action. A start might be to remove the requirement for listing a topic during public comment sign up.
Cole McMullin
If you appreciate the kind of reporting we bring to you
Please donate $10 or $20,
or whatever you can
to Livable Raleigh.

Thanks for supporting
your local watchdog!