Dix Park Edge Study: It's Late, But Not Too Late if our new City Councilors are BOLD!
To say the Dix Edge area study (Dix Edge Study) is long-awaited is like saying that Wolfpack football is a little overdue.
The fact is that this study by the city's planning staff of how to manage growth in the Dix Edge area – the large swath of land and neighborhoods east and south of Dorothea Dix Park – is 10 years late.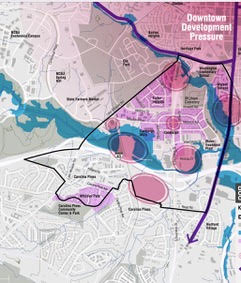 Worse, it is devoid of solutions to the fundamental problem: Affordable neighborhoods are under assault from the onslaught of high-rise luxury development schemes, and for the last 3 years city leaders were cheering for the bulldozers. (Think: Mayor Baldwin, and her devotion to developer John Kane.)
But, better late than never?
Maybe, but only if City Council – led by the 4 new members elected in November — acts with urgency to put some muscle (and money) into the half-formed ideas this report offers for preserving affordable housing.
Council can also foster more affordable housing with some simple policy reforms.
It should go without saying – but let's say it anyway – that Council should stop approving developers' applications for up-zonings until the policies and money are in place to assure that affordable housing has a future in the Dix edge area.
The Dix Edge report is on City Council's agenda for the 5 p.m. meeting on Tuesday, January 24. A "public hearing" will be conducted, but don't be fooled. The point won't be to "hear" the report except in shallow outline, and the public will get all of 8 minutes to respond to it, if Council follows its woeful standard practice.
Then, expect Mayor Baldwin to ask that the report be accepted and the related Comprehensive Plan amendment approved.
No!
We recommend instead that Council not accept the report as written but rather refer it to a Council committee for careful consideration and revision. We also recommend that Council shelve the weak-kneed Comprehensive Plan amendment as proposed by city planners.
Actually, the one specific policy solution offered by the report, the proposal for a new "Form and Function Map," seems designed to hasten more rezoning cases, which developers would love.
Council should set this proposal aside, perhaps permanently.
Meanwhile, the report tosses out a few half-formed ideas for preserving the existing affordable housing, but promptly consigns them to the "explore opportunities" bin. What should the city do to create new affordable units in the area? It should 'explore opportunities," the report says.
What to do about the housing crisis and rampant high-end development. Well, "explore new housing strategies," of course!
Really? — That's just not good enough. And the clock is ticking.
Some of the report's ideas are worth bringing forward and fleshing out. A conservation overlay district for the area? Let's do more than mull it. Council can make it happen.
Council can also insist that a robust public fund be established for the repair, renovation and preservation of the older and still-affordable housing stock in Fuller Heights and Caraleigh, before it all disappears.
That such a fund does not yet exist tells you everything you need to know about Mayor Baldwin's intentions for the Dix Edge area.
What are our new Council members' intentions?
Livable Raleigh Editorial Team
If you appreciate the kind of reporting we bring to you
Please donate $10 or $20,
or whatever you can
to Livable Raleigh.

Thanks for supporting
your local watchdog!