Midtown CAC Virtual Meeting
September 27 @ 7:00 PM

-

9:00 PM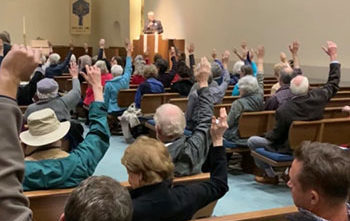 Hello, everyone.   Our agenda for the MCAC meeting Monday September 27 has a couple of additions regarding some rezoning proposals which have been recently announced.  The agenda was already packed with the single topic of Six Forks Road Widening design review, so we will really have to discuss the rezonings quickly.   The rezoning requests are just now going through the review process with citizens, the planning commission and the city council.  So we will have more time to discuss them in coming months.  However, we need to introduce them at this time.    The Six Forks Road Widening is at the very end of its public comment period, so it is important to spend more time reviewing it and encouraging public comments to the city.
For those interested in the proposed multiple zoning changes in the North Hills complex, a Zoom session will be conducted by Kane Realty on Wednesday September 22 from 6 to 8 pm.  A file with brief description is attached to this note, and you are invited by Kane Realty Company to join their Zoom presentation Wednesday at the following link:
       Enter the following meeting ID: 897 8399 5313
       Enter the following password: 206339
Thank you, we look forward to a lively discussion of Midtown matters at our September 27 MCAC meeting.
Midtown Citizens Advisory Council Meeting 7 pm Monday September 27, 2021 agenda:
1)   7:00   Call to Order and Welcome to Midtown CAC.  Working out any "bugs" getting us all connected.   Introductions.
2)   7:05   Review of minutes of MCAC meeting 7-26-21, attached.   Please review in advance of meeting
3)   7:10   Presentation and Discussion of Final Detail Design for Six Forks Road Widening.
                Chad Cantrell, PE.  City of Raleigh Engineering Services Dept, Roadway Design and Construction
4)   8:20  Discussion of  Proposed Rezoning Z-45-21  West end of Navaho Rd where apartments "The Pointe at Midtown" currently stand.
               Discussion leader Larry Helfant.
5)   8:35  Discussion of Proposed Rezoning of 6 parcels of land currently within North Hills, both original west side of Six Forks and on east side of                           Six Forks Rd and along St Albans Drive).  As yet they have not been issued a "rezoning number" by the city.
               Discussion leader Larry Helfant.
6)   8:50   Old and New Business, Announcements, and Remarks
ZOOM meeting link:  As always, you can connect to the Zoom link starting at 6:45 pm and we hope you will so that we can work out any kinks in connections and get started on time at 7 pm.
Christina Jones (our MCAC host) is inviting you to a scheduled Zoom meeting.
        Topic: Midtown CAC Monthly Meeting
        Time: September 27, 2021 07:00 PM Eastern Time (US and Canada)
        Join Zoom Meeting
        Meeting ID: 820 0482 9078
Related Events