The event that pushed Livable Raleigh over the edge and forced us to initiate this Recall was the Mayor's Power Grab to add an extra 8 months to her term in office by moving the next City Council election from Oct 2021 to Nov 2022 to handle the census delay while the vast majority of other NC municipalities have moved their elections to Mar 2022 and Raleigh could have done the same.
It's not just that she added the extra months. It's that she engineered the whole thing in secret, behind closed doors, with no public notice, no public hearing and no public vote. This action has been widely criticized by elected officials and the media. And, on top of that she also changed the form of our city election to a "Plurality" which eliminates the possibility of a run-off. The winner does not have to get over 50% of the vote. This is widely considered to favor incumbents.
Livable Raleigh held two public meetings to gather input from the people of Raleigh. Exactly what this mayor REFUSED to do. The overwhelming sentiment of the people was to approve of going forth with the effort to recall the mayor. The results are in from our public meeting. Poll Results. 
"the citizens of Raleigh haven't had an opportunity to comment on any of this… It's not a public resolution because it was done in a closed meeting"
Sen Dan Blue
"The last thing we need is for city council members to emerge from a figurative smoke-filled room with a decision bearing no public input"
N&O Editors
"Decisions about local elections like these should involve more open discussion and public input"
Gov. Roy Cooper
But, there have been other actions from the very beginning of her term in office that provide even more damning evidence that Mary-Ann Baldwin just isn't fit to be the mayor of Raleigh.
Elimination of Citizen Engagement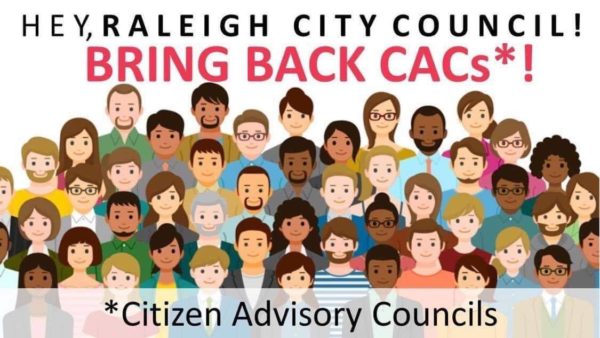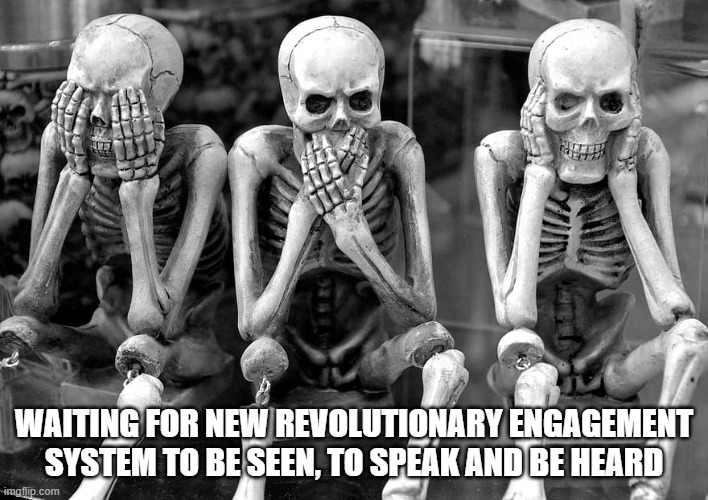 In one of her first moves, on Feb 4th, 2020, Baldwin launched her first secret attack. Also without public notice, without public input and without even notifying all the other members of council (she and the other councilors kept it secret from Councilor David Cox) she eliminated city support for Citizen Advisory Councils, Raleigh's 50 year old formal tool for two-way engagement between citizens and their government. And, despite promising a revolutionary new engagement process, to-date, after more than 530 days, nothing has been implemented.
CACs Were Gutted By Mayor Baldwin's Council
Baldwin Implements Phase IV of her Revolutionary Engagement System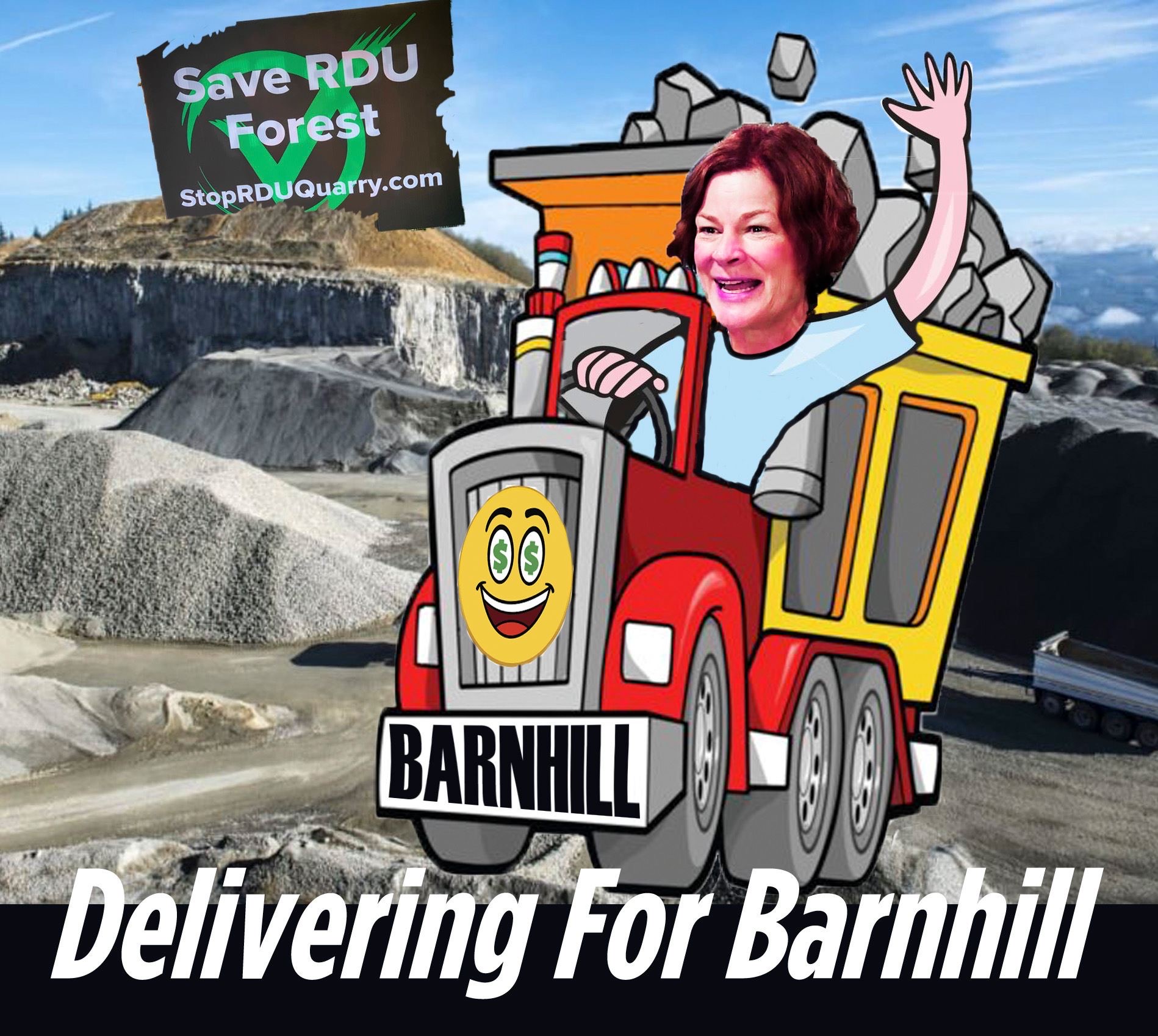 The N&O editorial staff took issue with the mayor's job saying:
Mayor Mary-Ann Baldwin took a job as director of business development for Barnhill Contracting Co., a company that received a $6.3 million city contract for street resurfacing just days before Baldwin began interviewing for the job. Taking the job was an awkward move by Baldwin, who has been criticized for being too close to developers. Reversing course and stepping down from her Barnhill job would require Baldwin to admit a miscalculation about her outside employment that has grown more obvious with recent questioning about who government serves – the people or the wealthy and powerful. But humility and self-reflection are what people are now asking of their elected officials. Baldwin would do well to answer with an action that signals she has heard them and is prepared to put the public's confidence in her ahead of her personal financial interests.
Read the full N&O editorial Raleigh Mayor should think again about taking a job with city contractor.   
Mayor Baldwin Lies to the People of Raleigh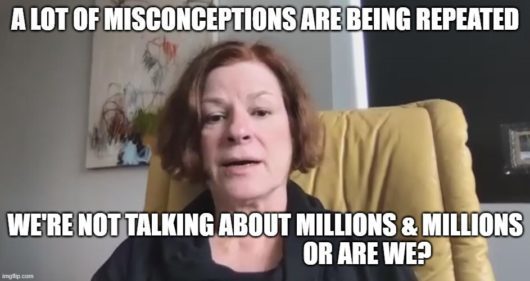 When confronted by speakers with facts about what a TIG (Tax Increment Grant) would cost the taxpayers of Raleigh, Baldwin was frustrated and laughed mockingly at the citizens when she said "we're not talking about millions and millions of dollars." Well, actually we are talking about millions of dollars. Read the facts here: The Cost of a TIG, Millions and Millions? Not According to Mayor Baldwin 
Raises Your Taxes, Gives the Money to her Developer Donors
Money in Politics – Developers Fill Her Campaign Coffers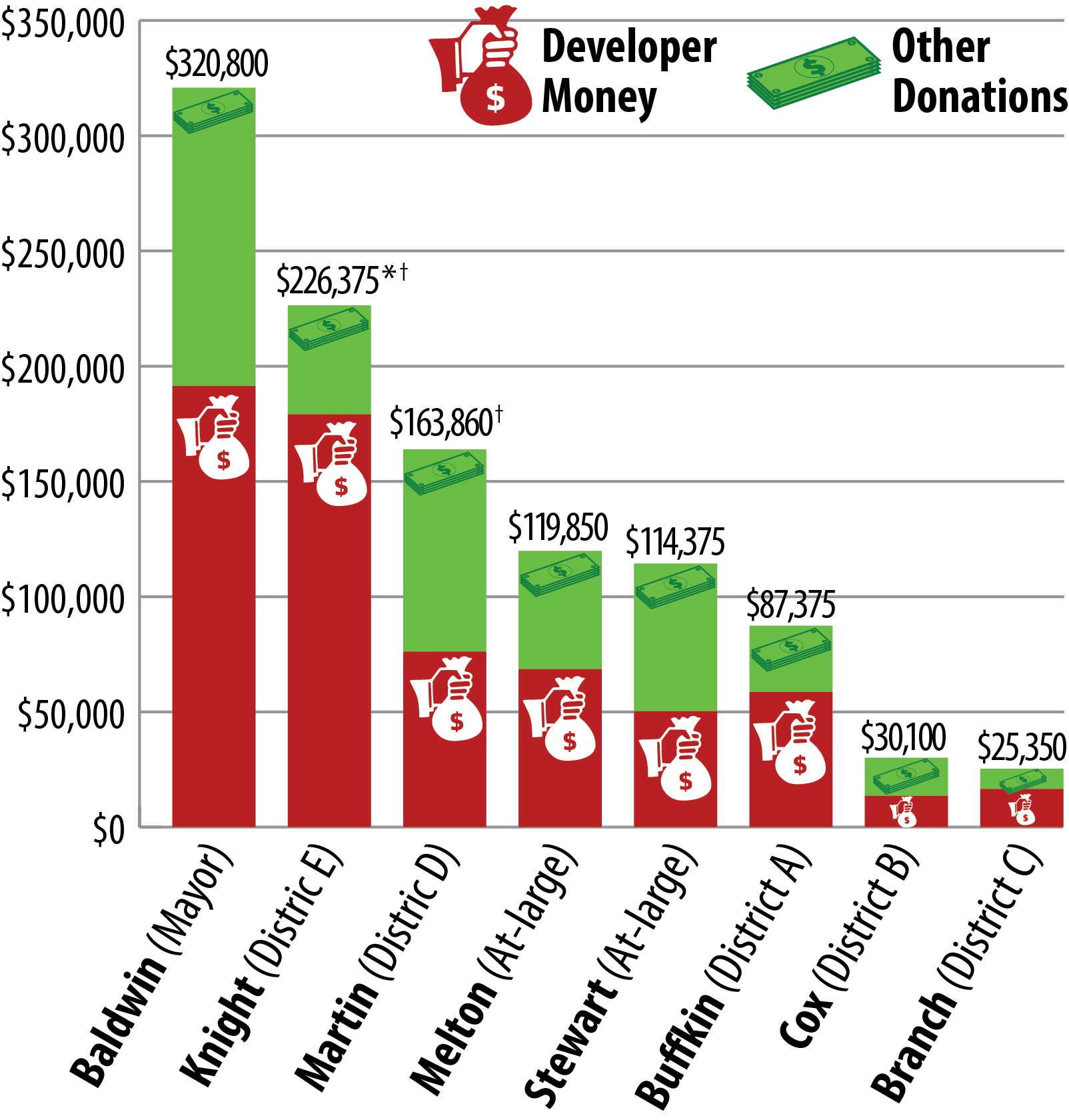 Mayor Baldwin and the council majority were heavily funded in the 2019 election by the development industry. Baldwin received nearly two thirds of her total campaign funding, almost $200,000, from them.
Read the details here: Follow the Money
Livable Raleigh Editorial Team