Raleigh attorney and political manager Stormie Forte is the new District D Council member by a 6-1 vote. Councilor David Cox (District B) voted for Carmen Cauthen.
Forte was Mayor Baldwin's choice virtually from the day Saige Martin resigned, which was June 26. Almost immediately, Forte was telling friends that she had the Council vote sewn up.
Weirdly, Baldwin announced an elaborate application process a few days later, with a virtual candidates forum thrown in. Some 56 people applied, including Forte, Cauthen and former District D Councilor Kay Crowder. Two weeks of breathless suspense ensued, with the outcome in as much doubt as a Hallmark holiday classic ("Will She Find Happiness?"). Yesterday, the saga ended with Forte's no-surprise selection. Baldwin pronounced it "historic," and it was — Cauthen and Forte were vying to be the Raleigh Council's first-ever African-American woman. Forte claimed that honor, and she is also the first LGBTQ woman.
LR supported Cauthen's candidacy after it became clear that Council would reject Kay Crowder. We don't really know Forte, whose work to date has been in the state government arena rather than the city. She clearly has skills. They'll be tested almost immediately by a massive development project proposed for District D.
Kane's giant project looms in South Raleigh
We're talking about Z-13-20, John Kane's bid to have 133 acres of land up-zoned around the intersection of South Saunders Road and I-440 (see the map in the linking zoning application).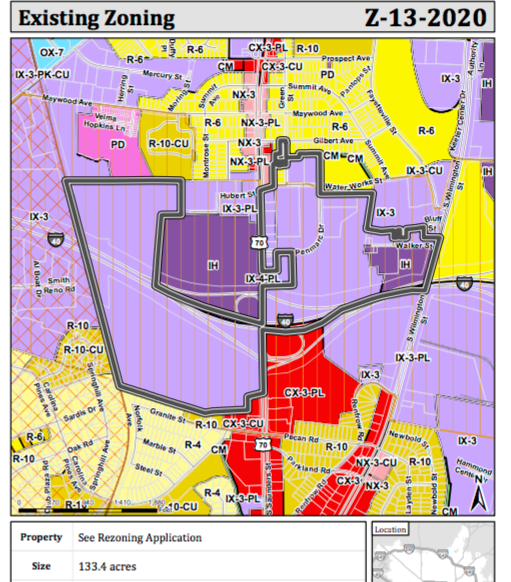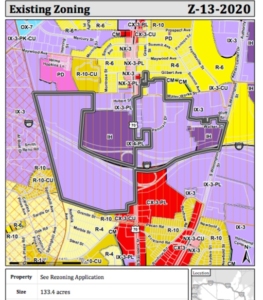 Kane is the developer of North Hills and of the massive buildings downtown on the south side of Peace Street. (40-story tower approved but not built as yet.)
But his so-called Downtown South plan–the South Saunders tracts, touching South Wilmington Street on the east–would dwarf Kane's other projects if approved as submitted.
This is the plan with the stadium that may or may not be built for a major-league soccer team that so far does not exist. (Kane is seeking a big city-county subsidy for the stadium, but so far hasn't gotten it.)
The stadium, frankly, is a kind of shiny object in an application that asks for an open-ended right to build 40-story buildings, 20-story buildings and 12-story buildings adjacent to Swift Creek, in a part of town with serious flooding issues.
So far, nothing in the application promises a stadium, or affordable housing, or stormwater management beyond the minimal requirements of city code. Nor does it say how the community will benefit from the fact that the location is in a federal Opportunity Zone, that Trump-created developer boondoggle that is supposed to benefit the poor but seems actually to  be a handout to the rich.
In fact, the only thing that's promised in the application is no strip clubs, car repair shops, gas stations or prisons. Otherwise, it's an open-ended "ask" for the right to build whatever.
In a Zoom meeting with residents yesterday, Bonner Gaylord — Kane's representative — offered no specifics, and he insisted that no specifics, no design details, nothing can be decided until after the up-zoning is approved. Let us build to the max, and THEN we'll consider what you want, seemed to be his message.
Carmen Cauthen was on the Zoom and asked whether Kane will enter into a Community Benefits Agreement with South Raleigh residents as part of the up zoning application.
Gaylord put her off.
Such an agreement — a CBA — might pledge enhanced flooding controls. It might pledge affordable housing units. It might pledge an inclusionary zoning approach so that existing low-income residents won't simply be pushed out of South Raleigh in a new wave of gentrification.
Does South Raleigh really want a stadium? Didn't sound like it from the Zoom meeting. They might prefer a library. Or a school.
What Will Stormie Do?
Stormie Forte's first job as District D rep, if she's up to it, will be to take the side of residents and wring some promises out of Kane, while also considering whether 40-story buildings in a flood-prone area makes sense for this part of the city. The application for Z-13-20 was filed in February, but a study of traffic impacts was lacking. According to Gaylord, that study has now been sent to city staff and the application is ready to move through channels this fall.
This fall meaning September. Meaning it's coming fast.
City Council meets just once in August. Before you know it, the Kane project will get to Council, where Mayor Baldwin has long since promised to support it, whatever it is.  That, of course, is Baldwin's history: She's all-in for the developers.
Forte was hand-picked by Baldwin. On the other hand, if she plans to seek election in District D next year, Forte may want to declare her independence.