What's wrong with Tax Increment Grants? (TIGs) A Community Conversation
February 20, 2021 @ 10:00 AM

-

12:00 PM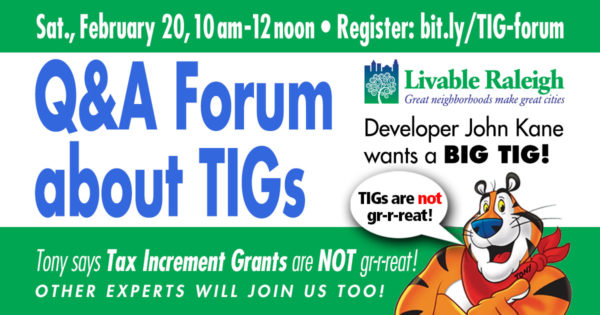 Tax-increment grants to developers have never been approved in Raleigh or Wake County. But developer John Kane is asking for a giant TIG for his Downtown South project, with the backing of Raleigh Mayor Mary-Ann Baldwin and Wake County Commissioner Sig Hutchinson.
We estimate that Kane's TIG would cost the taxpayers of Raleigh and Wake County at least $450 million over the next 30 years. And if Kane gets a TIG, won't every developer with political connections want a TIG too?
Livable Raleigh members Yevonne Brannon and Bob Geary will dive into what TIGs are and what they're not with experts including:
Vickie Adamson, Wake County Commission, Vice Chair
Alexandra Sirota, director of the N.C. Budget & Tax Center
Kristin Beller, president of the Wake County Association of Educators.
Wanda Hunter, Southeast Raleigh Community Leader
There is no charge for this event. Hope to see you there!