Midtown CAC
June 28 @ 7:00 PM

-

9:00 PM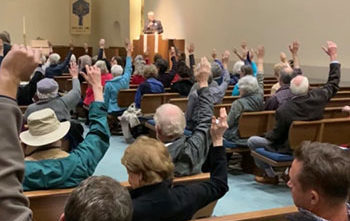 Midtown Citizens Advisory Council Meeting Monday June 28, 2021 agenda:
1)   7:00   Call to Order and Welcome to Midtown CAC.  Working out any "bugs" getting us all connected.   Introductions.
2)   7:05   Review of minutes of MCAC meeting 5-24-21, attached.   Please review in advance of meeting
3)   7:10   Presentation by MCAC Nominating Committee of Final Proposed Slate of Candidates for Leadership Positions MCAC for FY 2022
                Vote using Zoom survey mechanism
                Announcement of results by MCAC Nominating Committee
4)   7:40    Lindsay K Saunders —  Status on Parks, Rec, Greenways
5)   7:45    Update on Six Forks Road Widening Project — Chad Cantrell, PE.
                 CoR 
Engineering Services Dept,  R
oadway Design & Construction
6)   8:15    Update on Midtown Small Area Plan —  Jason Hardin
                  CoR Planning Dept
7)   8:35    Anne Sherron  –  StormWater Management Issues and Development
8)   8:40    New Business, Announcements, and Remarks
9)   9:00    Adjournment
ZOOM meeting link:  AS ALWAYS, you can connect to the Zoom link starting at 6:45 pm and we hope you will so that we can work out any kinks in connections and get started on time at 7 pm.
Christina Jones (our MCAC host) is inviting you to a scheduled Zoom meeting.
        Topic: Midtown CAC Monthly Meeting
        Time: June 28, 2021 07:00 PM Eastern Time (US and Canada)
        Meeting ID: 820 0482 9078
Related Events