We've added Car "Clings" to our list of Thank You Gifts
These clings are quite versatile. They are removable. They will cling to glass or to paint. Just make sure the surface is clean before you apply.
You can put them on the inside of the car facing OUT through the window to keep them safe from being stolen or vandalized.
Or, you can apply them to exterior glass or painted surfaces like a traditional car decal. But, remember, they are REMOVABLE.
Application hints:
If you apply on the inside, facing out, leave the backing in place on the cling. It will make placement easier to control.
When applying on the outside of the car, you will need to remove the backing. Place the "cling" where you want it by starting at the center of the top edge of the cling. Then using a clean, dry cloth and working your way from the center to the outer edges of the cling, rub out any bubbles and flatten the cling to the surface. Don't worry if you don't get it perfect the first time. You can easily peel it off and do it over.
You will notice the colors show more vibrantly when you place the cling on the outside of the car versus inside and facing out through a window.
Click on images to enlarge
A minimum donation of $5 gets a car cling mailed to you. The $5 will cover the cost of the cling and mailing fees.
Or, increase your donation to $10 and we will ADD the car cling to your selection of either a Protect Democracy T-Shirt or Yard Sign.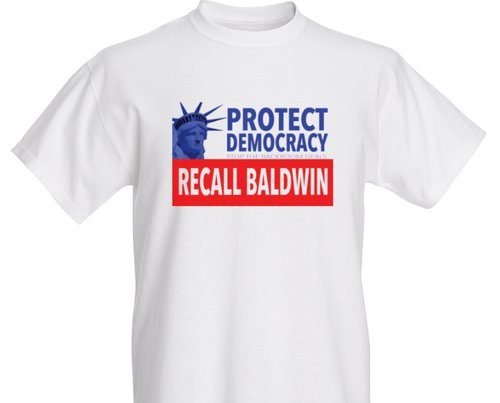 Our PROTECT DEMOCRACY T-Shirt
For a minimum donation of $10, you may select this T-shirt.
100% Cotton in unisex sizes:
Medium, Large & Extra Large
This fall's must have fashion statement!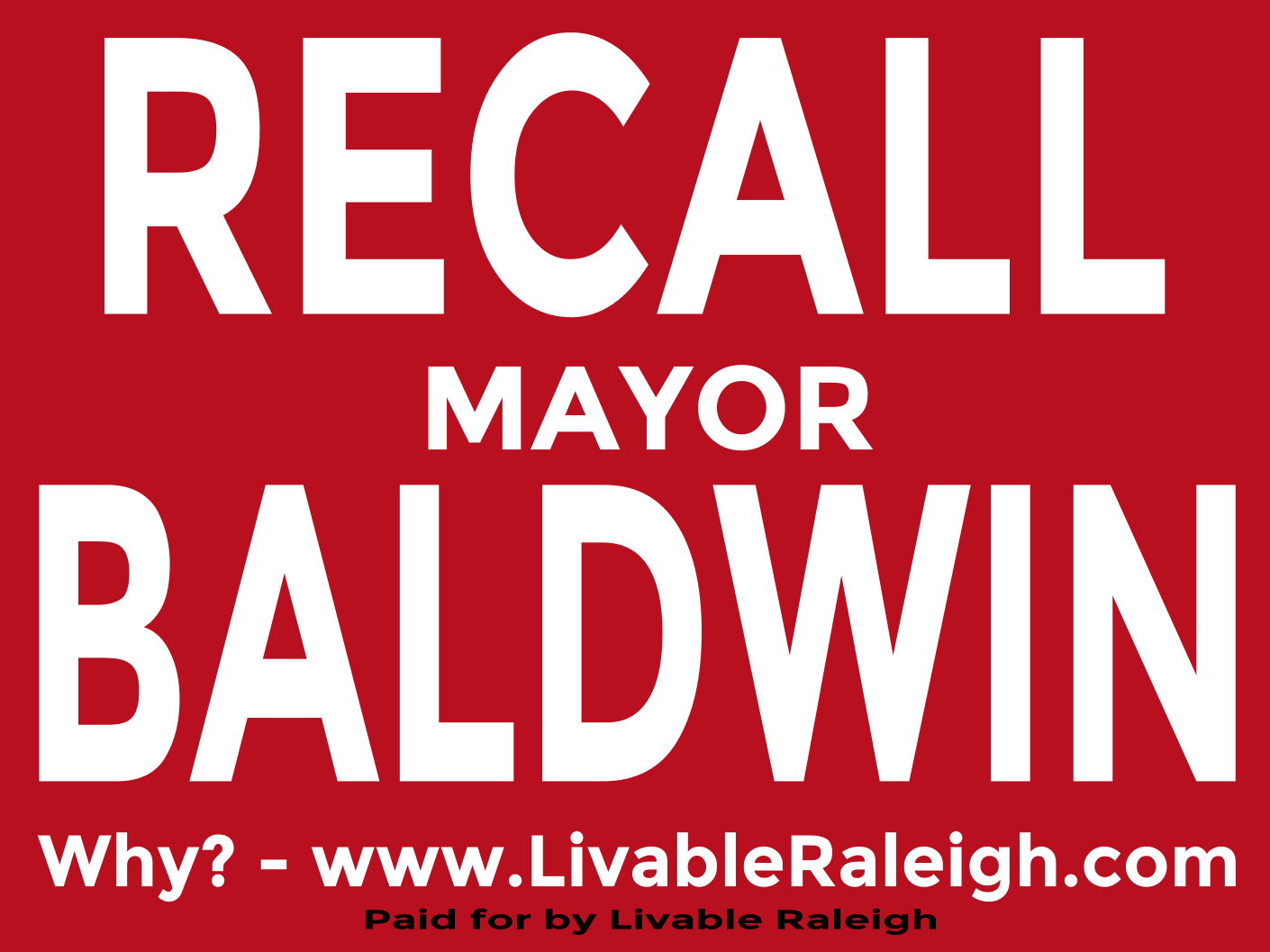 Our redesigned YARD SIGN
For a minimum donation of $10, you may select this yard sign.
These signs are popping up all over Raleigh. Join your friends and neighbors in showing your support for the Recall.
We have been notified by the City of Raleigh that any yard signs placed in the "right of way" will be removed and disposed of by the city after Mon, 9/6. Please make sure any signs you have put out are on your private property. If you have a sidewalk in front of your home, please DO NOT place a yard sign between the sidewalk and the road.
The donation amounts are minimums. We will happily accept more.
We have a limited supply of T-Shirts. Get yours before they are gone.
Online donations accepted via PayPal: Click HERE 
Or, you can mail a check to:
Livable Raleigh, PO Box 6404, Raleigh, NC 27628-6404
If you donate on our website, PayPal will ask you to check a BOX to include your mailing address so we can send you a thank you. But, if you forget, please don't worry. We send an email thank you to all who donate and will ask you which gift you prefer, your size if you select a T-Shirt and where you want it delivered.
If you donate by check, please include your gift choice and size details along with a delivery address.
Donations are made to our general fund and are NOT tax deductible.
Previous donations do not qualify.
WE DELIVER TO YOU!